I can see that a visitor to Venice is able to enter many of the attractions in Venice at a reduced, or entirely waived fee.
Therefore, to obtain free admission, the interested parties can present any document issued by a public authority, giving proof of their condition."
Source: Venice City Pass
I assume that the range of acceptable documents includes the 'Blue Badge' issued by local authorities in the UK because it is issued by a public authority and appears to give proof of the holder's condition and features an EU insignia.
http://london.trusttown.net/wp-content/uploads/2014/06/How-To-Apply-For-Or-Renew-Blue-Badge.jpg
A problem appears to arise for those who have driven by car to Venice because the badge must be displayed on the dashboard of the car when a marked space is used (otherwise the person will get a violation costing around GBP 75).
The only other thing a tourist is likely to have is their 'radar key'...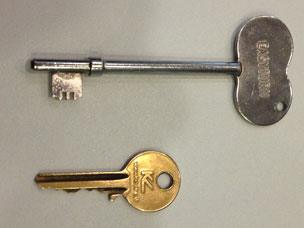 Surely this would not be acceptable to a museum guard in Italy? Or is it?
A less palatable option is to carry along their discharge summary...
But this is a technical document and is hardly understandable to a layman, and if it were it contains information of a deeply personal nature which far exceeds what the occasion calls for.
Other documents that appear to meet the Venice City Pass criteria require that the holder receive Disability Living Allowance (DLA) or Personal Independence Payments (PIP) OR does not carry an EU insignia. And DLA/PIP is harder to qualify for than simply having a disability.
What will meet the need? Or are they likely to be more relaxed about their requirements than the Venice City Pass site suggests? Would they accept a photocopy of the 'blue badge'?
Note: per commentary asking where I would park, it's my usual parking venue in Fusina.